I have enjoyed Yamaha instruments for many years, in particular their keyboard & digital piano range and today Yamaha have announced that the Clavinova is celebrating its 30th anniversary.
Since 1983, Yamaha have released a variety of digital piano instruments – starting out with a very basic FM representation of sounds right up to the more modern and exquisitely captured samples taken from their elite acoustic range. It is fascinating to see, and in fact 'hear' how technology has progressed, the techniques used by Yamaha to evolve and adapt these hardware and software advancements over the years to bring us the performer a more realistic portrayal of a 'real' piano without many of the disadvantages.
Yamaha have detailed some of these advancements below:
History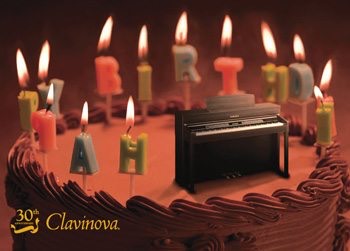 1983: Yamaha unveil the first generation Clavinova , the YP-40 – featuring new proprietary FM (Frequency Modulation) technology and a new keyboard mechanism.
1986: Yamaha announce the CLP-50 and for the first time Yamaha's acclaimed AWM (Advanced Wave Memory) sampling technology was heard – this new innovation featured digital recordings of the acoustic piano which produced a highly accurate reproduction of its traditional counterpart.
1990: The CLP-760 was launched and for the first time, Yamaha's AWM sampling technology became 'Stereo Sampling' for added realism. This model also featured a new AE (Action Effect) keyboard mechanism which more accurately replicated the hammer action of the acoustic piano.
1996: A major breakthrough for the Clavinova saw the introduction of the Graded Hammer action and 'Dynamic' stereo sampling. These advances provided the foundation for the modern-day Clavinova and saw the instruments being embraced by the music education establishment and conservatoires.
1997: New design styles introduced including mini-grand piano cabinets increased the appeal of Clavinova to style-conscious customers.
2005: More design innovation was apparent in the highly acclaimed 'Slimline' Clavinova models aimed at modern living spaces. Launched at London's fashionable 'Sketch' the press preview was attended by design press and VIP guests including Jools Holland, Jonathan 'Jono' Coleman and James Nesbitt.
2006: The CGP-1000 was introduced, featuring true grand piano design and new vibro-acoustic technology which produces improved tonal accuracy and a highly resonant sound.
2011: The new CLP-400-series was unveiled, marking the most significant breakthrough in touch and tone by introducing "Real Grand Expression".
2012: The new CVP-600 series was launched on the market. Yamaha introduced RGE (Real Grand Expression) for CVPs, offering a simple and intuitive operating environment. This marked the first time that Yamaha has used touch screens in digital pianos.
Yamaha have released a selection of wallpaper backgrounds and even paper craft print-outs for you to enjoy.