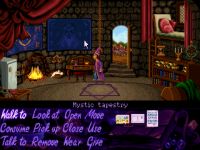 Well it has been a long time to sort out and in fact I started the ScummVM Music Enhancement Project initially for just this game, but today I received permission to release the full Simon the Sorcerer soundtrack for use with the ScummVM engine.
I am so thrilled to have secured this and now all we have to do is wait for those kind ScummVM developers to do a little coding and implement my optional enhanced soundtracks.
Simon the Sorcerer (100% complete)
Simon the Sorcerer is a series of point-and-click adventure games created by Adventure Soft. The series follows the adventures of an unwilling hero of the same name. The game has a fantasy setting and is a comedy… [read more]
I have released three sample tracks for the already completed soundtrack so you can have a preview of the quality. Samples available are Bridge, Forest and the Main Theme.
If you would like to make a comment, please use my new discussion forum, which has a board specifically for this project.