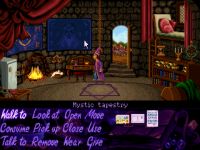 After 2 long years of enhancement work, ScummVM developers coding changes and getting permission from the powers that be, I have finally been able to release the full Simon the Sorcerer game soundtrack today!
Now the day is finally here, it has left me feeling extremely happy that I and others have been able to get to this point and I would like to thank Simon Woodroffe for his support and permission and of course the amazing ScummVM team for their amazing software and dedication.
Available in high quality and low quality OGG Vorbis downloads, you can decide which best suits your requirements. Questions and constructive comments are welcome on my discussion forum, so make sure you pop over and register today.