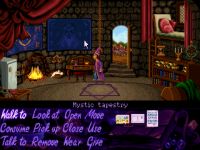 Today ScummVM had an important update to its code. With this update, I now have the ability to play my enhanced music tracks for Simon the Sorcerer using the ScummVM software.
There are still a few things that need looking at before I release the full soundtrack, but this has at least given me the opportunity to allow you to see a preview video of Simon the Sorcerer and ScummVM working with my external soundtrack files.
The video shows a before and after preview of how Simon the Sorcerer sounds without and with my version of the soundtrack. Please remember YouTube compresses the video and indeed audio quite harshly so should only be viewed as a low resolution example. The version you will get when it is all released for use within the game will be at CD quality and in stereo!
As always keep checking for more news on my personal website and make sure you pop by my new forum to discuss this project.