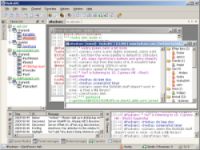 For absolutely years and years I have been using mIRC as an IRC client, well to be precise a highly modified version that worked very well when I was in Unreal Tournament clans.
After all this time, I fancied a change and wondered what other alternatives there were. I then stumbled across someone using HydraIRC.
HydraIRC is an open-source IRC client with an attractive and easy to use interface. It supports DCC Chat and File transfers, Connecting to multiple servers, Dockable Floating Tabbed Windows, Autohiding Windows, DLL Plugins, Channel Monitoring, Message Logs, Event Viewer, Themes, Color schemes, Buddy groups, Audible and Visual Notifications , Reg-Exp Highlighting, Favorites and much more.
Once I got my head around the different way you set up certain instructions for the software, I was totally in love with this application. The problems I had such as having many channels (rooms) open at once and missing out on some of the conversation is now no longer an issue as 'Channel Monitor' lists all channel messages in one window. You can also change the layout to suit your own preferences by dragging and dropping.
The only downside so far is the development progress. The last update was way back in April 2006, however the program runs fantastically on Windows Vista and has really inspired me to make more use of IRC all over again. For any mIRC users looking for a change, HydraIRC may be a great option for you.
Link: HydraIRC