Although subscription services for UK television including Sky and Virgin Media have for years been considered a 'premium' viewing experience, non-subscription alternatives are now pushing back hard to show their impressive credentials. Recording, On Demand, media streaming and many more features are steadily appearing on purchasable set-top boxes, with the idea of tempting you away from the typical subscription based service providers you may have originally exclusively considered.
The HDR-1010S is the latest set-top box from Humax to take advantage of Freesat (via a satellite dish), as well as offering a new feature known as Free Time.
I have been a Sky subscriber for many years, so it's inevitable I will be comparing the two set-top boxes within this review – as well as its predecessor the HDR-1000S.
What is Freesat?
Freesat requires a satellite dish rather than using your outside aerial, although this offers a lot of advantages. Satellite television has always enjoyed a huge assortment of channels, often outstripping other methods of delivery and the same also applies here.
Freesat has over 150 digital channels, including TV, radio and interactive services. If you or a previous occupant of your home have had a Sky satellite dish installed, you can even re-use it for receiving Freesat. This is certainly handy, although do check your warranty information if you currently use a different satellite television provider to make sure it won't affect the terms of your cover.
If you have to start from scratch, you will obviously require a satellite dish to be fitted to receive Freesat. In this case, Freesat recommend you book an installation directly through them, although you can also choose to use a local installer.
Although offering a very similar selection of high definition programming compared to Freeview (over an aerial), it is Freesat that has the potential to deliver the greatest range of HD channels in the future. You can view the channel listing on the official Freesat website.
Hardware
The Humax HDR-1010S replaces the black finish of its predecessor the HDR-1000S, with a new white design while also incorporating built-in wireless connectivity (802.11b/g/n MIMO 2×2). If the thought of an Ethernet cable stretching over a large distance disturbs you, or it's simply not possible due to the location of your router – the HDR-1010S is the model for you.
It also comes with a 1TB internal hard drive as standard, which is used to store all of your recordings with plenty of room for a variety of individual programmes, movies and TV series.
If you were a Sky subscriber previously, chances are that the satellite dish and the leads that connect to it are compatible with the Humax device. You can connect a single feed or preferably two to your Humax HDR-1010S without any installation costs if this is the case. Two feeds are best so you can record two programmes simultaneously or record one channel while viewing another.
To look at, the Humax HDR-1010S is a fairly unusual yet appealing device. Not the typical rectangular box with straight lines you might expect from a set-top box, instead a white sloping design with the overall dimensions pretty small compared to my Sky+ HD hardware – finished off with a chrome-like strip that houses a few buttons. Although it is nice to see a colour other than black available in the range, in practise it may prove to be a little more difficult to place among your other hardware as I found, surrounded with the classic black devices.
The front of the HDR-1010S features a few navigation controls and the power button, as well as a conveniently placed USB port that is revealed by opening a flap. Also included is a basic display that details the current channel you are watching among other things and a few text indicators that are unfortunately incredibly hard to read.
Around the back of the unit, there are ports for two satellite inputs, HDMI, composite video, stereo audio, scart, SPDIF, ethernet, USB port and of course power.
Interface & Remote Control
When connecting the Humax HDR-1010S to my HDTV, I was quite simply astonished at the increased picture quality that came through compared to my Sky+ HD box. I never had problems with the Sky device's picture quality before, however there was certainly a very noticeable bump in detail and colour reproduction that looked absolutely sublime when switching to the wonderful HDR-1010S.
The HDMI output from the HDR-1010S also sends a Dolby Digital 5.1 surround sound stream, which my Sky+ HD box refused to do and instead I had to resort to Optical Out. Another big plus for the Humax device.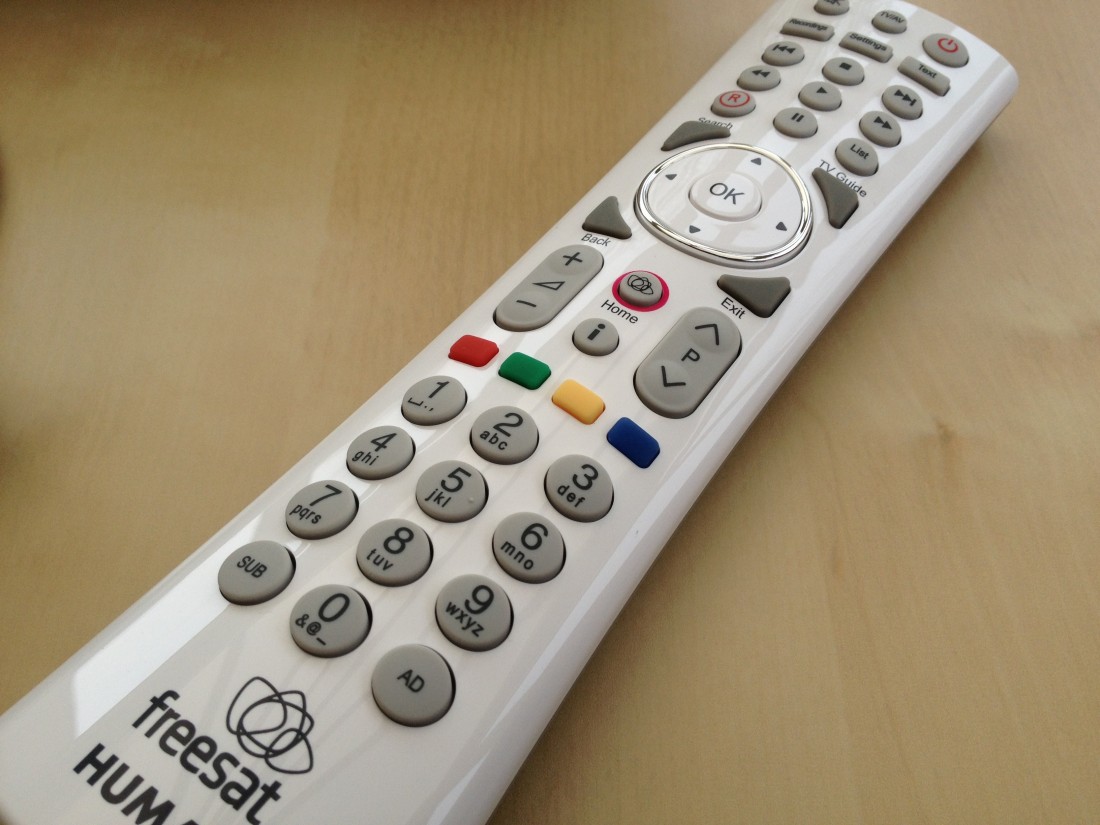 The remote control itself is a very light yet long device, featuring the typical buttons you would expect including playback controls, navigation options and numeric keys. As remotes go, it is competent enough for operation, but just doesn't go far enough to provide a truly user-friendly experience. The Sky+ remote playback controls can be easily used in complete darkness if need be due to its clever positioning and size of the buttons, unfortunately the Humax remote is a little more tricky. There are some nice touches though, for example I adore using the right navigation selector to advance a recording by 30 second increments – far more useful in my opinion than using the dedicated fast forward button in most scenarios.
Compared to the previous HDR-1000S remote, a few of the buttons have been relocated. 'Home' is now no longer placed among the navigation controls and instead finds itself just below with a clear colour surrounding it to stand out a little more. Where the 'Home' button once was, a 'Search' option is found – providing a quick way of locating content from the TV guide listings. 'Text' has also now shifted to the top row due to these other alterations.
The interface in conjunction with the remote control works well, although lacks again crucial refinement. The remote control features four coloured buttons, however unlike the Sky alternative the Humax device doesn't utilise these 'stand-out' controls within the navigation to skip to regularly used functions. For example, the Humax recordings interface requires you to press 'ok' on the remote, revealing a list of operations including resume, about, watch from start, close menu, keep and delete. Ideally there should be a key along the bottom of the screen utilising the colored buttons, where the blue button for example could be delete. The list system is just too clumsy for quick operation and even more bizarre is that in other areas of the interface the coloured buttons are actually used! Puzzling…
Compared to the Sky TV guide, the Humax design is actually far clearer. With a nice large font, clean colour scheme and even channel logos – it is sharp and inviting. Navigation is a little slow, which isn't helped by fairly elaborate transitions that animate as you hop from one section to another. The noticeable lag, although no doubt designed to add a layer of interest and pleasure, actually achieves the opposite. It's just too much and slows down the operation of the platform. Either a faster processor should be included, or the animations reduced.
It's also not obvious from the front whether the device is recording unless you have amazing eyesight, would have been nice to include a subtle blinking red power light or other more obvious indication. The display on the front of the HDR-1010S displays the current recording or channel, however I really don't see why we need this panel. There is certainly enough on-screen information to compensate and it makes the device look a little dated in truth.
Another downside is that there is no filter for showing only HD channels in the TV Guide, instead a lengthy list of genres including entertainment, news & sport, movies, lifestyle and others are available. You can however create yourself a list of favourites, so here seemed to be a good location to store the few high definition channels available on the Freesat platform.
Free time & On Demand
If your Humax HDR-1010S is connected to the Internet, you can enjoy additional features.
By simply navigating to the left of the TV Guide timeline, you enter an area which allows you to look back in the past and launch programmes that were previously shown earlier in the day. This is limited to only a few channels currently including BBC and ITV, however it does provide a convenient way to use your TV guide to view missed programming and if available – play them back at will. This allows you to remain in the TV Guide and saves you manually opening up a seperate On Demand app such as BBC iPlayer and locating the item yourself, although of course this is also an option…
BBC iPlayer and ITV Player are included with the device and offer a dedicated area to view each provider's available streaming content. This is perfect if you have forgotten to record a programme to the internal storage as there is a good chance it will be available to stream instantly over the Internet instead. Channel 4 and 5 apps are shown on the Humax box as coming 'soon', so hopefully we won't have to wait very long for these to appear. What has been added though is just as important and that is a YouTube app.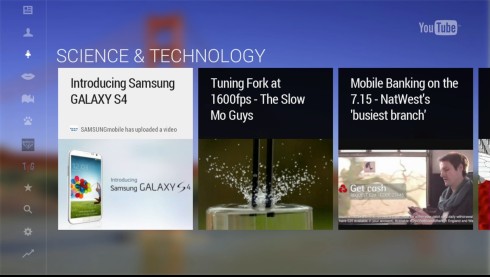 YouTube is a content giant not just for professional video content creators, but for amateurs as well. If you needed a reason to create a YouTube account, this is it! With a YouTube account, you can create a subscription list of 'channels' you wish to follow covering all manner of subjects and this appears within the Humax YouTube app. Viewing YouTube content through a large television screen is a wonderful experience and although I have various devices that can access this content, the Humax is by far my preferred choice. It's quiet, includes an attractive user interface and links in to my account with only a few simple steps (computer required). There is a slight bug where 'loading' blinks on and off at various times during playback, however I hope this will be corrected in an update soon.
You can even play MP3 music, view JPEG photos and watch various video file formats using the HDR-1010S either from a USB stick, network-attached storage or capable media sharing device such as a computer.
Conclusion
The Humax HDR-1010S boasts a jaw dropping picture quality, a visually impressive interface – all while packing in numerous additional features to take advantage of online functionality.
As much as I enjoy the HDR-1010S, it isn't a truly 'premium' experience yet, due to a fairly complicated navigation system provided by Freesat that simply doesn't match the Sky+ HD alternative for clever concise operation. It's an impressive set-top box, but it could have been an exceptional one with just a little more consideration. However, that isn't to say that this Humax offering shouldn't be considered, in fact if you want to remove the tiresome monthly payments for a subscription service yet wish to hold on to the advantages of a satellite system – the HDR-1010S delivers the essentials with stunning picture and sound quality.
I haven't missed the Sky platform once and with more channels gradually appearing on the Freesat platform, the choice available for TV viewing has become a lot more interesting!