Podcast: Play in new window | Download (13.5MB)
Subscribe: Apple Podcasts | Google Podcasts | Spotify | Amazon Music | Deezer | RSS | More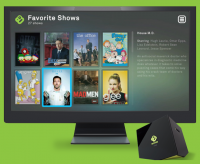 I interview Wil Stephens who is the Vice President of International Business Development for Boxee. Here he tells us all about their Boxee Box, which is a device you hook up to your HDMI compatible television to expand the content – with access to on-line films, television shows and music, all on demand.
You can also view your own captured or created content including music, photographs and home movies all on your television.
Below is a transcription with some of the highlights from the podcast, however in the audio version you can enjoy the full interview covering additional topics.
James: So before we begin to chat about Boxee, please tell us a little bit about yourself?
I am Wil Stephens, I am heading up Boxee's international operations from London. I joined Boxee at the beginning of this year, before we officially launched in the UK in June. I'm heading up Boxee's European operations to begin with, starting from London.
James: So who are Boxee and where did the name come from?
Boxee is a company which is headquarted in New York. The name came from our founder and CEO, whose had a Boxer dog – so the Boxer became Boxee.
Boxee is now a four year old start-up. R&D offices based in Tel Aviv, Israel. We are a pretty global company by now, we have around 30-40 employees and growing very rapidly.
James: Your main product is the Boxee Box, which claims to be the 'One box your TV needs'. So what can you tell us about this product and how does it enhance our televisions?
A lot of people's favourite stuff is already available on the Internet. Boxee is the best possible way to get all those movies, TV shows and clips from the web and on to the best screen in your house – which is the television. We catalogue over ten thousand shows, five thousand movies and we also have over 200 apps available on the Boxee Box – so you can browse for new video clips, movies and TV shows – in any format, any language or any territory you wish – all through your TV.
James: Boxee Box has a wide range of content providers, many we will recognise including BBC iPlayer – which allows us to watch many of their programmes that we may have missed. What can you tell us about BBC iPlayer on Boxee Box and many of the other services available?
We are thrilled to have the BBC iPlayer on the Boxee Box. It is probably the most recognised and appreciated service here in the UK. We are actually in partnership with the BBC developing the new version of iPlayer for the Boxee Box, which will be available very shortly. The benefits of the new version will be far better integration with our content library, which makes the TV shows available on the iPlayer searchable and more discoverable through Boxee's well known and familiar interface.
We are building out other services, working with all the major broadcasters as you'd expect in the UK. We have already made announcements on film service 'blinkbox', which will be on the Boxee Box shortly. We are also building out with major European partners – from France, Germany, Sweden, Spain and everywhere else to make Boxee relevant and available to as most people as possible.
James: We have TV shows, movies and we have streaming music as well I believe?
Yes we do have streaming music. We actually have a number of music streaming services available on the Boxee Box already. We will be making further announcements and new services in the coming weeks.
James: So the Boxee Box unit itself, what sort of connections does it have to connect to a television?
Basically, we want Boxee to be a HDMI 1 on every television. We want it to be the first HDMI device you plug into your television and the only HDMI device your television needs. We also have audio outs to go into your audio Hi-Fi system to give you the best quality sound. We also feature USB inputs at the back, so you can also attach external storage.
James: It's got built-in wireless and its also got a LAN port if you want to plug in with a wired Ethernet connection, but if you've got a Network-Attached Storage drive (NAS), which is basically just a hard drive you can plug into your router – you can connect to any media you have on there to stream directly to your Boxee Box and through your television.
It supports right up to 1080p, 24 frames per second and a whole host of audio playback features as well – so I think you've pretty much covered the vast majority of content requirements you may have?
I think the Boxee Box is probably the most versatile box out there in terms of content formats it can support and I think that's probably the biggest benefit for people who have lots of local files and movies in various formats – they can all just play on the Boxee Box easily.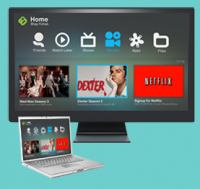 James: Boxee's far more than just the hardware Boxee Box you provide, you also have various software options available as well for Windows, Mac and Linux – so what can you tell us about this area?
Boxee obviously started life with downloadable software on various platforms and we continue to support them. We have recently announced that we will be releasing a major update for our downloadable software in the next few weeks and we are very excited to bring our software up to speed with the recent developments on the Boxee Box.
James: So how does Boxee on the Apple iPad work?
It allows you to stream videos between the iPad and the Boxee TV, so it's a way of curating content, flicking through your libraries, seeing what people are recommending to you and added to the Featured Lists from Boxee's own editorial team. It's also there as a way to stream content between your PC, so we have what we call Boxee Media Manager – which is a way of streaming all of the local files you may have that are not playable on an iPad for example flash video. We transcode those videos on the fly, so you can just watch them in real time without doing any extra steps on your part, so it's a great way to watch any of your local files as well as all the web files in one place.
James: So how can we find more about Boxee and Boxee Box and all the other software iterations?